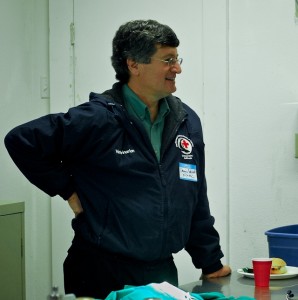 Dennis Wood, DVM
Medical Director
Founder
Dr. Dennis Wood was born in Lancaster, California, 2nd oldest of 10 children. He received his Bachelor's degree in 1975 from the University of California, Davis in Zoology/Wildlife Biology, graduating Phi Beta Kappa. He received his Veterinary degree in 1980 from the University of California, Davis, graduating Phi Zeta.
He married Elizabeth "Becky" Sleeper in September 1979. Together they purchased the bankrupt veterinary hospital, then named Northcrest Veterinary Clinic in 1982.
Dr. Wood was voted "Young Man of the Year- Del Norte County" in 1986. He was also an active member on the founding board of the Del Norte Humane Society.
Dr. Wood has provided wildlife care for thousands of injured and ill wild animals from Del Norte, Humboldt, and Curry counties on a pro-bono basis, including raptors, shorebirds, deer, bear and cougar cubs, beaver, otters, turtles…
Together with Dave Edgar and Charles Tweed, he founded the Northcoast Marine Mammal Center in 1984. Dr. Wood has served continuously as the Medical Director/Veterinarian in a volunteer status since the NMMC's inception. Dr. Wood and the NMMC are part of National Marine Fisheries Marine Mammal Rehabilitation Network. Dr. Wood participates regularly in continuing education regarding marine mammal health and rehabilitation. In the past 10 years Dr. Wood has had an active role in large whale disentanglement off the coast of Del Norte and Humboldt counties. He is now a member of the Large Whale Disentanglement Network, and has undergone extensive training in Maui, Bodega Bay and Monterey Bay.
Janet Dickey, RN
Hospital Director


Marlana Garcia 
Animal Care Manager
Lynda Stockton
Stranding Coordinator


Jessie Weldon, Vet Tech
Animal Care

Lee Barnhill
Office Volunteer, Board Member
Dina Hernandez
Animal Care Volunteer
Kristen Orth
Animal Care Volunteer, Humboldt County
(No photo available)
Cassandra McCain
Animal Care & Gift Store Volunteer
Paul
Office Manager (Staff!)